Wash away all worries at Ritz-Carlton Spa, Bali
By Su Zhou in Nusa Dua, Bali ( China Daily )Updated: 2015-12-26 08:01:18
The Balinese believe the body is a sacred temple for the soul and spa treatments bring peace to the spirit, calm to the mind and vitality to the body. Bali is crowned as a "Spa Paradise" by Chinese tourists and experiencing a traditional Bali spa is a must-do for Chinese visiting the beautiful island.
To cater to tourists who wish to escape their worries, the Ritz-Carlton, Bali, introduced its signature spa in November - a center where nature, culture, tradition, and spirituality bring balance to the external and internal worlds.
"Taking inspiration from the Indian Ocean, The Ritz-Carlton Spa, Bali, seamlessly infuses the theme of water and healing resources of the sea throughout every element of the spa experience, creating a completely rejuvenating spa immersion," said Karim Tayach, general manager of The Ritz-Carlton, Bali.
"Water therapies and therapeutic ingredients coupled with the timeless charm of Indo-Balinese hospitality bring guests to a level of renewal they could only have imagined."
Drawing from time-honored Balinese therapies, the spa's signature treatments use two of the Indian Ocean's most life-giving natural products: seaweed and pearl. Rich in vitamins and minerals, seaweed is prized for its rejuvenating properties and used as a strengthening agent and exfoliator for the skin, while pearl has traditionally been used as a cosmetic by royal families in Asia to improve the radiance of the skin.
Inspired by traditional Sanskrit stories of the Balinese ancient culture, The Ritz-Carlton Spa,Bali, immersion begins with an orientation of Balinese wellness and traditional therapies in the spa's open-air lobby. Resort guests are welcomed to refresh both mind and body with a signature ocean essence tea, followed by an introduction to the spa's signature therapies and ingredients by the resort's Balinese wellness master.
Guests are invited to revel in time-honored Balinese-inspired treatments in the wellness center, which has 14 freestanding treatment rooms, including four spa villas. Each treatment room and spa villa is named in Sanskrit, the official language of Hinduism. Special words and phrases that symbolize heaven, such as "Santhi" meaning peace, and "Sama Asthana"meaning tranquil palace, are used to identify each room.
Specially created for couples, each spa villa features a private Balinese bathing pool, inspired by the Royal bathing area in the ancient Balinese Kingdom, an open-air relaxation area, an outdoor shower overlooking a natural limestone cliff, and a separate changing room.
The spa specializes in other enhancing experiences including spa experiences for the entire family. Families can enjoy a world of relaxation and tranquility with the "Mom, Dad, and Me"package, providing full body treatments and aromatic baths for parents, as well as a shoulder and neck massage paired with activities for kids.
To awaken and heighten the senses, the spacious spa also features a Hydro-Vital pool, with sections that focus on back, neck, foot and leg muscle stress release; and separate female and male wet areas to create a relaxing state of well-being. The Hydro-Vital pool system offers overall serenity, reflexology for the soles, body rejuvenation, de-stressing, and complete relaxation.
suzhou@chinadaily.com.cn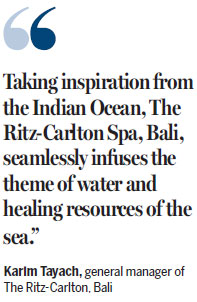 (China Daily 12/26/2015 page10)
__._,_.___