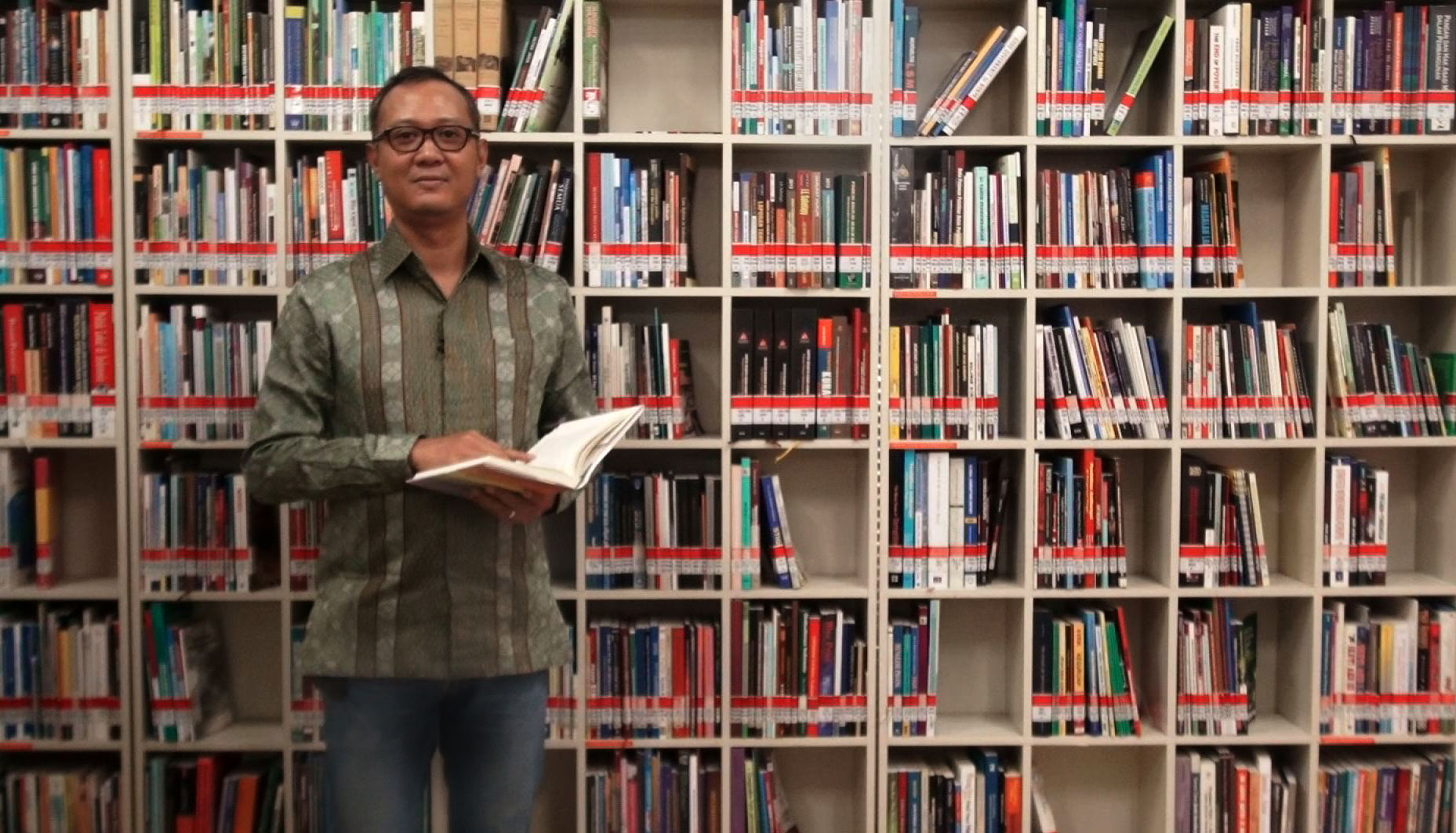 A portrait
of a gay Indonesian
by

Liza Yosephine
A gay man from the conservative town of Jombang in East Java is happily married amid the public upheaval surrounding sexual orientation.
The 44-year-old devoted Muslim stands on his decision to open up about his relationship with the love of his life, whom he has spent a committed relationship with for over a decade.
---
The plan to tell the truth to his father laid heavy on Gunawan Wibisono's shoulders.
Gunawan had just spoken on the phone to his father earlier. That was when his father had invited him to bring his "best friend", Dutchman Hans de Waal, to their family home in Surabaya, East Java.
This was not going to be a simple task.
For the conservative Muslim society in the regency of Jombang, his case was an unusual one. That is because the friend, Hans, is also his partner.
A million thoughts ran through his head, and his stomach was in knots throughout that one hour flight from Jakarta to Surabaya, as he wondered how the meeting would go.
"I was so nervous. So anxious about it," Gunawan said while looking down and shaking his head as he recalled that moment all those years ago.
Little did he know that his father would say something that would sweep away the burden he had been carrying for years, ever since Gunawan became aware that he was only attracted to men.
"I've known you since you were a kid. You are so lucky you have somebody that you can love and who loves you in return," Gunawan says, quoting his father with gleaming eyes.
"I cried at that time. I cried at that time," he says choking up.
Such a reaction from his father had not crossed his mind. Growing up in a devoted Muslim family in Jombang, known for its conservative Muslim majority, Gunawan felt his father's acceptance was all he ever wanted to hear.
Just a week earlier, Gunawan came out to his mother, Ngainten, a 75-year-old woman who used to own a modest food stall in Surabaya. He had invited his mother to Jakarta to open up about his relationship with de Waal that had been going on for eight years at that time.
Ngainten had known de Waal as Gunawan's best friend.
To Ngainten, Gunawan finally said that de Waal was not only a best friend but a partner, after which she questioned what "partner" meant.
"'I'm in love with him,' I said to my mother." He burst into laughter as he spoke.
Ngainten's reaction was funny, Gunawan says, as she simply asked him why he was just telling her then and not a long time ago.
The acceptance, however, did not come easy, Ngainten told thejakartapost.com.
Hearing the truth come out of Gunawan's mouth was shocking even though she had figured out her son's sexual orientation herself.
"How could my strong and handsome son become like this? What mistakes did I make? But nonetheless, he is my son. I won't hit him or shout at him because being homosexual was not his choice," Ngainten says during a telephone conversation.
Embracing her fifth child's sexuality was the only right thing Ngainten felt there was to do, fearing that if she pushed him away she would risk losing her son.
"Gunawan is my most obedient son. I accept who he is just like my other children. I gave birth to him," the woman says, adding that she also feels glad her husband has shown the same acceptance as she has.
Ngainten says she also ordered all her children to accept their brother without any discrimination.
Relieved and happy was how Gunawan felt after coming out to Ngainten, the woman who had given birth to him and his seven siblings.
However, happiness had not always been Gunawan's best friend.
He had kept his sexual identity a secret until coming out to other gay people when he was 26 years old, around the same time he met his future husband.
Coming from a Muslim family in Jombang, Gunawan had been hesitant to open up about his feelings.
Asked about any discrimination he had received, Gunawan rolled his eyes. "Oh my God," he said, followed with a loud laugh that felt like just a disguise for a somewhat painful experience he had gone through.
He recalls being attracted to his seatmate in junior high school and that started all of the questions he had for himself. A 13-year-old Gunawan could not comprehend why he would have a crush on his male friend.
He was bullied by his friends all through junior high school and high school for having effeminate traits and spending more time with girls. From a young age, Gunawan says he felt more comfortable befriending girls than boys, adding that he even considered boys as something alien to him.
He called the experience "painful".
The bullying caused trauma, forcing him to let out all of his confusion by crying alone as he had no one to talk to.
"I was afraid if I told my mother she would reject me and if I told my teachers they would blame me. I tried to handle it myself," said the businessman who also volunteers at an NGO called Kemitraan where he helps to advocate on human rights issues.
The bullying stopped, luckily, during his university years although he had still not opened up about his sexuality.
Gunawan remembers that during high school and university he repressed his sexual attraction to men and hid his sexuality altogether. His close friends at university taught him to act like a masculine man and how to walk in a manly manner.
He thought he was cured; a defunct homosexual.
That was until he fell in love again, with another man when he was 25. Confusion re-appeared and flashbacks of what had happened to his younger self flooded his mind.
To his hometown then, Gunawan returned. To seek enlightenment, he went to local clerics as he had no-one to talk to. No institution or professionals that he knew of could help him.
"It forced me to go to my village in Jombang to learn more about my religion; to know what my religion's perspective on homosexuality was," Gunawan says.
Homosexuality is wrong. That was the only answer he received from the clerics.
Nevertheless, hearing that answer first hand did not erase the affections he had for the man.
Gunawan then turned himself to books. He read books on psychology and human behavior to find the answer to the question that had lingered in his mind since he was a teenager.
Then, to feed his curiosity when he was 26 years old, he started to join internet chat-rooms for the gay community.
This provided a new perspective for Gunawan. He found out that he was not alone. There were people like him who also felt attracted to people of the same sex. It was the first time he felt truly comfortable with himself, leading him to come out to the friends he met through the chat-rooms.
Through online chatting as well, Gunawan met de Waal in 1998.
What started as casual conversations quickly turned into a battle of wits. Gunawan remembers vividly how he did not immediately get along with the Dutchman.
He explains how at first they felt they were too different to each other, not only because of their cultural backgrounds but also their tastes and points of view. Deciding they were better off as friends, it wasn't until over a year later that they took their friendship to the next level and became lovers.
The pair spent 16 years in a committed relationship before deciding it was time for them to make things official as a couple.
With a bashful laugh, Gunawan talks about his wedding to de Waal in the land of clogs and cheese on August 1, 2014.
Smiles and happy tears adorned the intimate moment the pair shared with their loved ones.
Gunawan later uploaded one of the happiest moments of his life to his Youtube channel. The slideshow of photos shows the longtime couple in similar blue shirts and trousers with subtle gold patterns, completed with batik fabrics worn round their hips: the traditional-meets-modern Indonesian groom attire.
He says it was never his intention to provoke the Muslim-majority Indonesian public to follow his ways.
"We have no other purpose other than to share our happiness with our family and friends," he said.
Gunawan admits at first he set the video to private viewing only for his friends and relatives across the two continents. However, an unknown person downloaded the video and shared it anonymously at de Waal's office in Jakarta, leading to the couple receiving threats.
Nevertheless, the pair found meaning in the incident. After hiring a lawyer to help them consider taking legal action, Gunawan decided, after some consideration, to instead make the video public.
The video, titled "Hans & Gunn Wedding", uploaded to
his Youtube channel
"Gunawan Wibosono" on Oct. 24, 2014, contains the couple's wedding photos and has so far garnered more than 12,000 views.
"I want to show people that even as LGBT people, we can find love, we can find long-term relationships and we can get married," he said, with heartfelt gratitude evident in his voice.
"But probably, I'm one of the minority who was fortunate enough to be able to marry abroad."
Public uproar on LGBT rights
Despite Gunawan's confidence in outing himself and sharing his personal life, discrimination against LGBT people in Indonesia has been growing louder recently.
Government officials and religious leaders have publicly stated they are against sexual orientations that they say deviate from the morals and values of the national identity and religious norms.
Although homosexuality is not illegal in Indonesia, it remains a sensitive issue.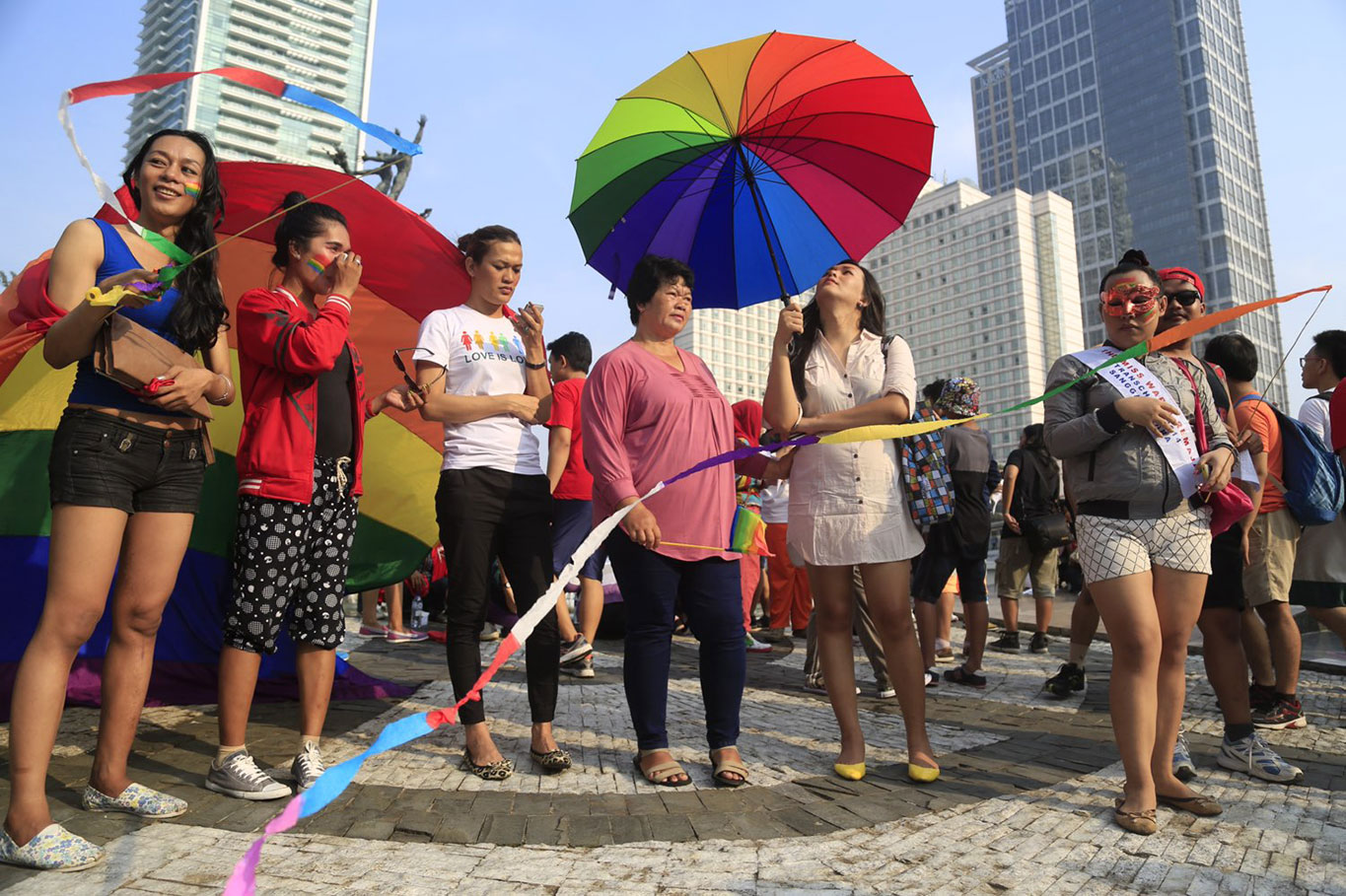 Supporters of rights for Lesbian, Gay, Bisexual, Transgender, Intersex and Questioning (LGBTIQ) people protest at the Hotel Indonesia traffic circle on May 17, 2015. The protest, which was held to celebrate International Day Against Homophobia, Biphobia and Transphobia, called for an end to violence and discrimination toward the LGBTIQ community. (JP/Wendra Ajistyatama)
Heated debate about the LGBT community exploded into the limelight earlier this year following a remark from Research, Technology and Higher Education Minister Muhammad Nasir saying LGBT people should be banned from university campuses.
He was reacting to the presence of a community-based organization at the state-run University of Indonesia called Support Group and Research Center for Sexual Studies, known as SGRC UI.
The minister suggested the LGBT community's presence was "corrupting the nation's morals", which inspired a slew of statements in response.
Other ministers joined in, making hostile statements against the minority group, calling them a threat to the state's religious life and even suggesting LGBT people be provided therapy to cure them.
__._,_.___